Kadamo Mästerskapen in Bloodtracking!
2016-06-14
« Tillbaka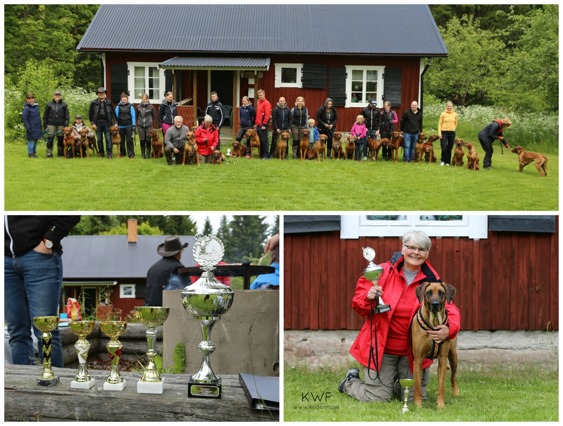 This past Saturday it was time again, for our annual Kadamo Championship in Bloodtracking! I can't express how happy I am to see dogs from all my litters coming to compete year after year! Every year we get joined by some new and younger once from the last litters, but still, the "old" once are there!
Thank you for not stopping to be active with your dogs, thank you for letting them do what they love!
This year we had 18 dogs competing, 3 did the aptitudetest and 13 started in openclass. Winner of the aptitudedogs was 9 months old Kadamo Always Aiming High "Django". Halfbrother Kadamo Aiming for Gold "Walter" also passed the aptitudetest.

Winner of the big competition this year was SEVCH Kadamo Eye Opener "Nikki". She did not only win, this was also her third ever start in openclass and she got the last needed 1st prize to complete her Swedish Bloodtracking Championtitle aswell as gaining a Honours Prize.
Big congratulations to owner Ingegerd!
At second place we had SEVCH Kadamo Fire in my Heart "Noomi" and on third place her "sister" SEVCH Kadamo Heart Stopper "Souki". Big congratulations to owner Elin for taking both girls to the top!
We had more 1st prizes and to be mentioned is our second new champion of the day, SEVCH Kadamo Playing with Fire "Zeppelin" got his third 1st prize and the title! Congratulations to owners Daniel and Therese!

Congratulations to all of you who attended for good results and wondeful company! It was a great day and I am so proud of all of you! See you again next year at the same place!