Loke 2nd Best Male with CAC and R-CACIB at Int. Dogshow in Österbybruk!
2016-05-31
« Tillbaka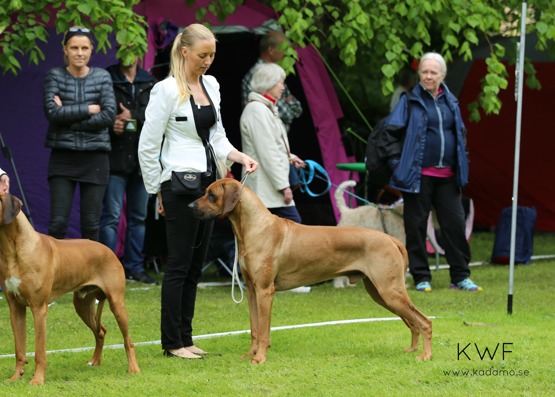 On Sunday it was time for the International Dogshow in Österbybruk, this year with around 75 dogs entered under new breed judge Gina Ekström Persson, SWE.
I did not have anyone of my girls with me this time, but still several of my puppies were entered so of course I went anyway!
First out was Kadamo Nothing But Gold "Argos" in juniorclass. He finished 2nd in the class with VG (only classwinner got Exc, no CQ).
In workingclass SEVCH RLDN RLDF Kadamo You're the Boss "Bellman" recieved Exc and finished 2nd in the class and Kadamo Playing with Fire "Zeppelin" 3rd in class with VG.
In Openclass I got to step in as handler of handsome BISS-13 Kadamo Johnny Walker "Loke" and he was the only dog in this big class to recieve Excellent! We had a tough judge today! I was happy when we got the CQ and invited back to compete for Best Male.
In Championclass Loke's brother SEUCH FINCH DKCH SEJW-12 Kadamo Rob Roy "Dexter" was shown and recieved Excellent and finished 4th with CQ.
Time for Dexter and Loke to compete in Best Male. I was very excited when me and Loke was picked out for placement! We got to run as number three but after one lap we got to move up to second place and ran behind a championmale. I knew then that if the judge would keep us there the CAC would be ours, and she did!
Finally that second CAC came for Loke, last year he got several R-CAC and was constantly on the "wront" placement. So very happy that it was his turn this time!

After this it was time for the girls. For the very first time Koya's sister Kadamo All I See is Gold "Zoie" to enter the ring, in juniorclass. She started off very well gaining Excellent which was great under this strict judge. She finished very nicely on a 3rd place out of 8.
In workingclass we had another girl making her showdebute, SEVCH Kadamo Fire in My Heart "Noomi". Noomi is not comfortable around the situation and has been training a lot. She did well even though she still needs more training to feel ok infront of the judge. Today she recieved VG.
In openclass I had two girls present, first time in a long time Kadamo A Hero in Halifax "Haley" who recieved Excellent but was unplaced.
Kadamo Lights My Fire "Soya" did very well gaining Excellent and finished 2nd with CQ in this large openclass.
We had one championgirl with us, SEUCH FINCH SEVCH Kadamo Thinking of Tilley "Tilly", she got Excellent and finished 3rd with CQ.
In Best bitchclass none of the girls were unfortunately placed, still saticfied with their achievements today!
We did enter with a breedersgroup, not very similar but we picked the once we had left at the show. We got HP and finished 2nd.

Thank you all for a great day! It was so nice to be a big group of people at the show together again! Look forward to your company on more shows this year!