4 classwins and Soya CAC-winner at Int. Show in Strängnäs!
2016-03-14
« Tillbaka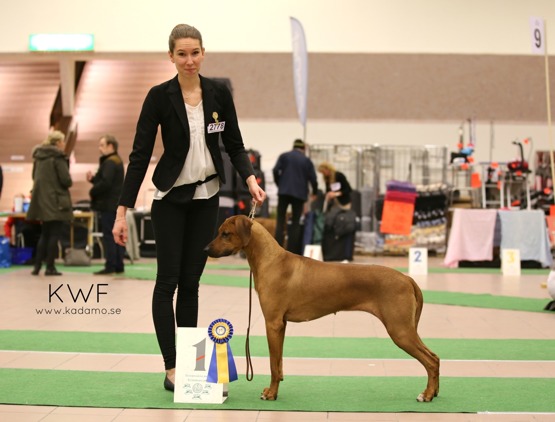 Yesterdau it was time for the International Dogshow in Strängnäs. Judge was Mr Jens Myrman, SWE and breedentry was 70.
First out was little boy Kadamo Always Aiming High "Django" in puppyclass. He had a bit of trouble to stand still but got a very nice and promising critique from the judge and finished 2nd Best malepuppy.
In Juniorclass we had brothers Kadamo Gold Rush "Tor" and Kadamo Nothing But Gold "Argos" who also struggled to stand still today... This judge seemed to have very little patient with this and Tor recived VG but still finished nicely 2nd in the class.
Brother Argos was the only one in the class to recieve Excellent and he was also placed as Best Juniormale.
In Workingclass handsome SEVCH Kadamo Devil in Disguise "Isidor" showed very well winning the class with CQ.
In openclass I had to lovely boys, Kadamo Fire it Up "Arrax" and BISS-13 Kadamo Johnny Walker "Loke". Arrax only recieved VG today but Loke recieved Excellent and finished very nicely as 2nd Best Openclassmale with CQ.
In Championclass we had SEUCH FINCH EECH SEJW-12 Kadamo Rob Roy "Dexter" who recieved Excellent but was unplaced in the class today.
None of my boys was placed in Best Male today but still happy with overall very nice results!

Time for the girls and me and SEVCH NOJW-15 Kadamo I'm in it for the Gold "Koya" in juniorclass. Koya showed very well and won the class with CQ.
In the largest class of the day, openclassbitches we had Kadamo Lights My Fire "Soya" and this lovely lady did great today winning the class with CQ and finishing 4th Best Bitch with her first CAC!
We entered with a Breedersgroup (Loke, Isidor, Soya and Koya) and we finished 2nd with HP.

Thank you to my lovely Kadamofamily for the company and a very nice day! Congratulations to all of you and see you again soon!