Three dogs and three classwins! Great results for Kadamo at the Int. Dogshow in Växjö!
2015-10-31
« Tillbaka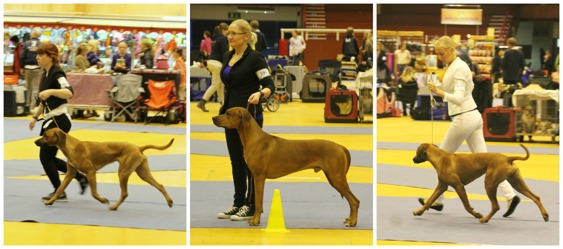 Yesterday me and Koya got up early and drove for 5 hours to attend her very first offical show in Sweden, the international dogshow in Växjö. Breedentry 30+, judge Jurate Butkiene, Litauen.
We were three dogs from Kadamo this day. First out was Koya's brother Kadamo Gold Digger making his debute in Juniorclass. He recieved Excellent and won the class with CQ. What a debute!
In Workingclass we had SEVCH RLDN Kadamo Fire and Ice "Nixon" who also recieved Excellent and was classwinner with CQ!
In Best male Boba was unplaced but Nixon made it to a very nice 3rd Best male placement with R-CAC.
Koya continued in the same way as the boys, recieving Excellent and won the juniorclass with CQ. In Best Bitch she was picked out for placement and finished 4th Best Bitch!
Very happy and proud of these three dogs and their great results today!
Thank you all for a very nice day!

Koya's critique:
"Correct type. Stylish bitch. Excellent expression and head proportions. Nice front. Looks a bit overangulated in rear. Moves with correct topline. Correct coat. Excellent temperament. Good presentation."