Nixon won CAC in Eslöv and Loke R-CAC in Högbo today!
2015-09-12
« Tillbaka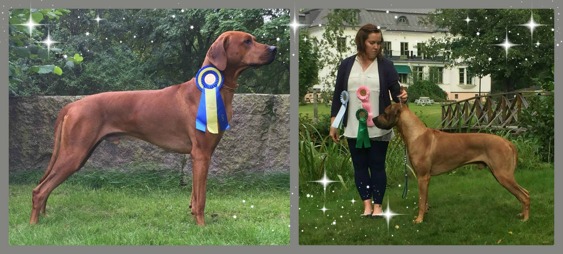 Today was a good day for Kadamo! In the south of Sweden at the National Show in Eslöv SEVCH RLDN RLDF Kadamo Fire and Ice "Nixon" was placed as 3rd Best male and won his very first CAC! At the same show young boy Kadamo As Good as Gold "Lilleman" was 2nd Best male puppy.
Further up north at the International Dogshow in Högbo BISS-13 Kadamo Johnny Walker "Loke" was placed as 4th Best Male with another R-CAC.
His brother SEUCH EECH SEJW-12 Kadamo Rob Roy "Dexter" was placed as 4th Best Championmale and Kadamo Fire it Up "Arrax" recieved Excellent but was unplaced.
Young boy Kadamo Nothing But Gold "Argos" was Best of Breed puppy and in the big finals he was picked out in the top 10 but not placed.
SEUCH FINUCH SEVCH Kadam Thinking of Tilley "Tilly" was 3rd Best Championbitch and thanked off as 5th Best bitch.
A huge congratulations to all of you for a great day!
For you who are showing again tomorrow, I wish you the best of luck and for you who are going to the RR-race good luck there aswell!