Kadamodogs rocking the ring at Nat. show in Vännäs with BOB and BOS, CAC, BIG-1 and more!
2015-06-16
« Tillbaka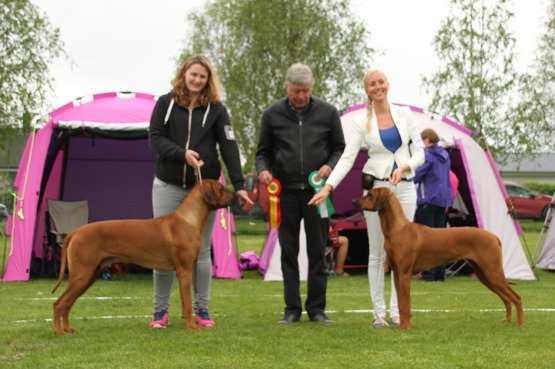 What a weekend we have had! Starting with great showresults and rallyobedienceresults for Dexter and Bellman on Saturday (read more about that below in older entries) my mood was just great as I met with Natalie and Daniel, the owners of SEVCH Kadamo Devil in Disguise "Isidor". We all packed ourselves into my car and started our 7 hour long drive towards Vännäs in the north part of Sweden.
We were heading there to attend their National Show, this year the breed was judged by Carl-Gunnar Stafberg, Sweden.
Back in 2009 I showed my girl Moa for him and he gave her her last needed CAC for her Championtitle.
Since then I have not shown for him but was excited to be able to again, this time showing Moa's kids and grandkids!
So off we went and arrived in Vännäs in the evening and had dinner in town together with Ewa and Amanda, the owners of BISS-13 Kadamo Johnny Walker "Loke" and Kadamo Fire It Up "Arrax".
After a nice evening we headed for our hostel to get settled for the night and let the dogs play before bedtime. Mira of course decided it was time to start her heat during our trip and was flirting with her brother, who despite this handled it so well this weekend!

Sunday morning we headed to the show were our breed was last in the ring. I started by showing Isidor in workingclass. He recieved Excellent, placed 1st with CQ.
In Openclass Loke and Arrax both did very well gaining Excellent and placed 2nd and 3rd, both with CQ.
So happy to see all three of my boys present in the Best Male competition. And my happiness did not stop there. The judge picked out all three of them for his top 4 placements!
He settled with Isidor as his Best Male with CAC, Loke as 3rd and Arrax as 4th! So happy!

Time for the girls and in workingclass we had SEVCH Kadamo Lady in Red "Chanel". She did well gaining Excellent but no CQ today.
Since Mira became Swedish Champion last weekend she got to make her debut this day in Championclass. And she did it in grand style by winning the class and going all the way to Best Bitch!
So brother and sister was up against each other for Best of Breed. The judge had a very hard time to decide but finally went with Isidor as his favourite of the day. Not a bad way to win your first CAC!

We entered with a Breedersgroup and used Loke, Isidor, Arrax and Mira, who the judge all liked a lot. And he liked our breedersgroup to giving us Honours prize to compete in the Big ring.

By the time we were finished in the ring it was almost time for the finals to begin so of course we stayed for them. We did not get placed with our Breedersgroup but happy to be there anyway!
Isidor competed in the Group 4/6 finals judged by Carl-Gunnar Stafberg. I think I counted to 16 dogs in the ring. I was so excited when we were picked out for Top 4 placements! Wow!
We got to run and then stand there and wait those long seconds for the announcements of the placement, and I found myself and the Beagle being the last two competing for the #1 spot. And then they called out, winner today is the Rhodesian Ridgeback! WOW! Soooo happy about this amazing results!
My biggest congratulations to Isidor and his owners Natalie and Daniel! You can be so proud of your boy!
In the BIS-finals judged by a man that I don't remember the name of... Isidor was tired and did not really show off. We got unplaced, or well shared 5th placed but we are still more than happy about that!

Our long drive home was a piece of cake after this successful day! It sure was worth the trip!

Below are photos from our trip aswell as a short video of the top 4 placements in the groupfinal. Enjoy!