3x classwinners with CQ and Zeppelin 2nd Best Male with R-CAC and R-Cacib today at Int. Show in Österbybruk!
2015-05-31
« Tillbaka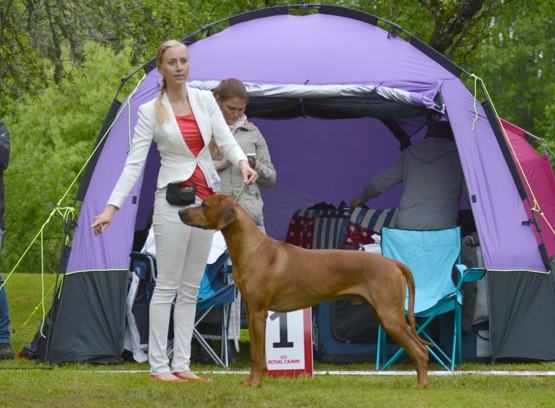 Today it was time for the first show outdoors for us in Sweden, at the International Show in Österbybruk. Judge was Ann-Sofie Gothen from Denmark and breedentry was 64.
I started off by showing Kadamo Playing with Fire "Zeppelin" (from my F-litter, Enya x Leo) in intermediateclass. This was his offoicial showdebute at the age of 22 months. And what a debute!
He started off by winning his class with Excellent and CQ and later finished at the top as 2nd Best Male with R-CAC and R-CACIB!
In workingclass I showed Mira's brother SEVCH Kadamo Devil in Disguise "Isidor" (from the Elvis-litterelvi, Moa x Kimba) who also did great winning the class aswell with Excellent anc CQ!
Unfortunately he was left without placement in Best Male but still very happy with his result!
After the boys it was time for me to show SEVCH RLDN RLDF Kadamo Bringin' It Back "Mira" in Workingclass were she competed against her cousin SEVCH Kadamo Lady in Red "Chanel" (from the America-litteramer, Fendi x Bosco). Both girls recieved Excellent and Mira won the class with CQ and Chanel finished nicely 3rd.
Mira got to stick around for sometime in Best Bitch but was unfortunately thanked off before the Top 4 placements.
I am very happy with the results of our day and look forward to more shows this summer!