SRRS Östra's DM i Bloodtracking!
2022-07-03
« Tillbaka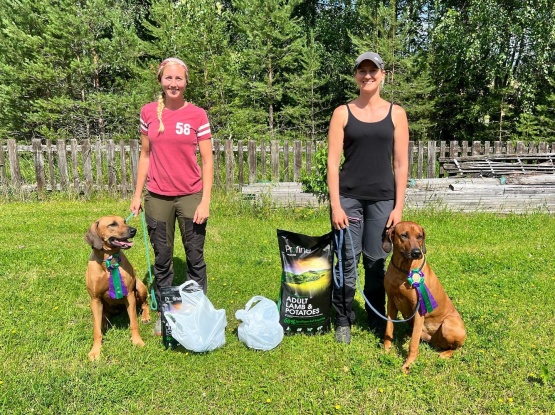 Yesterday I participated in the Rhodesian ridgeback East Club's competition in bloodtracking. I had Hailey and Tiya with me, and Tiya's little brother Nacho was also there.
It was a total of 16 dogs competing and both my girls did good. Hailey struggled a little bit in the heat and her difficult track mostly laid in very very tall grass, but finished the track with a 1st prize and 8th place overall.
Tiya did better and worked through her track without any problems and this got her a 1st prize and also gave her a 2nd place overall in the competition.
SEVCH Kadamo Live Life Like Timon "Nacho" from the Lion king-litter (Mira x Colin) also did well and got a 1st prize and won the whole competition!
So proud of these siblings (same parents but two litters) who took top 2 placements! Congratulations and well done Linda!

If you remember Nachos sister SEVCH RLDN Kadamo Sarabi the Lionqueen "Rut" won the SRRS North competition so both siblings will compete in the big final in August! Best of luck to you both then!