Koya 3rd Best Bitch at the Int. Show in Köping!
2016-07-24
« Tillbaka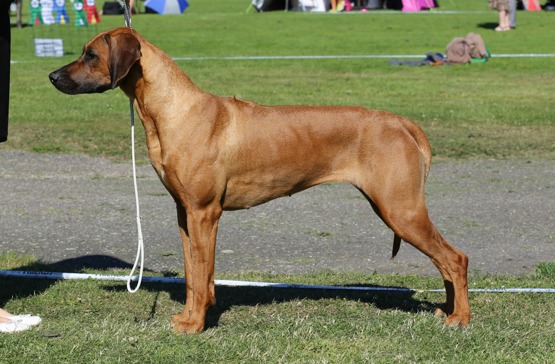 Yesterday it was time for the International dogshow in Köping. I started off by for the first time showing Kadamo Gold Rush "Tor" in intermediateclass. He was not at all focused today but despite that managed to recieve Excellent and win the class.
After him I had no dog present until juniorbitches. And here it was time for Kadamo You're My High Hope "Bella" to make her showdebute. We have not had many opportunities to practice and I haven't seen her or a few months, despite that I think she did very well in the ring.
She is a slow developer just like her mother and grandmother. They judge really liked her staked and said seeing her stand she deserved both Excellent and Championquality, but she is to unsteady and overbuilt on the move that today he couldn't give her better than VG.
I agree with him completely! I hope she continues to get better and better and I can't wait to see how she turns out in a year or so.
After her I showed her halfsister SEVCH NOJW-15 Kadamo I'm in it for the Gold "Koya" in intermediateclass.
Koya keeps on rocking the rings, and won the class with CQ. She continued all the way to 3rd Best Bitch with R-CAC.
In Championclass I showed SEUCH FINCH EECH SEVCH RLDN RLDF LP1 Kadamo Bringin' It Back "Mira". She finished 2nd in the class with CQ but was unplaced in Best Bitch.
Thank you Tomas for your help today and for taking pictures!