Great results for Mira's kids at Nordic Show in Västerås!
2019-07-20
« Tillbaka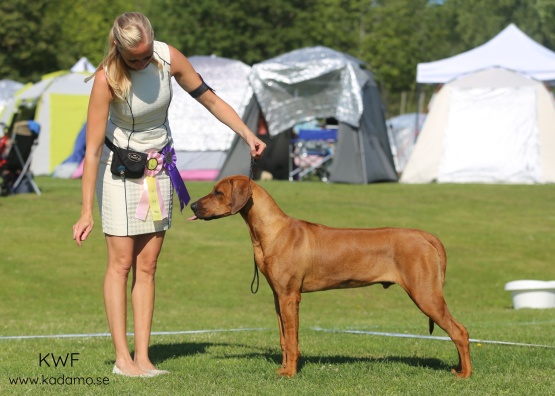 Today I took Tiya with me and went to the Nordic Show in Västerås. First I started with showing her brother Kadamo I was made for lovin' you "Ace" who was Best Male puppy with HP. Then I showed Tiya who finished 2nd with HP. Ace went up against the best bitch and won and became Best of Breed!
After the puppies it was time for their halfbrother Kadamo Go for It "Ivan" to make his showdebute. He was not sure exactly what the whole thing was about but behaved well and did ever better with result! He won the openclass with EXC, so not a bad debute!
In intermediateclass we had Mira's granddaughter Kadamo Runs with Raksha "Siri" who got VG today, she was a bit to small for this judge taste.
In openclass I showed SEVCH Kadamo Brings It Back Again "Daisy" who kept up her great work and yet again won the openclass with CQ. Unfortunately today the judge liked the younger dogs a bit better and she finished 4th Best Bitch. We keep on trying for that final CAC!