F-litter Pregnancy & Puppy Diary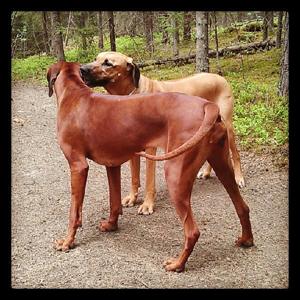 Today I took the first progesteronetest on Enya at 11.50 am. We drove to Djursjukhuset Albano and left it to the lab tech who then called me about one hour later.
Enya is today on day 12 of her heat and her progesterone was at 5 nmol/L.
We will take a second test on Monday morning and see if she has ovulated (normal between 15-20 nmol/L) during the weekend. If so, Leo will go to the vet and have his semen collected and send by air to Arlanda!
I have seen a change in her behaviour, and also in Dando. During today's walk they acted like lovers and just wanted to be alone for some qualitytime... Dando who is 10 years old and also nutured still loves his girls! He hasn't been interested in Enya before today, and now back home it is all quiet and calm again. But I am guessing they will get more and more interested in eachother the next few days. If it get's a little bit to much for Dando he might get to spend a few days with Enya's dad Wilson and my sister Johanna.
I don't want Enya to give the old man a heartattack!
More updates on Monday! Hopefully we will do the AI during next week!