H-litter Pregnancy & Puppy Diary H-litter
The precious High-puppies 6,5 weeks!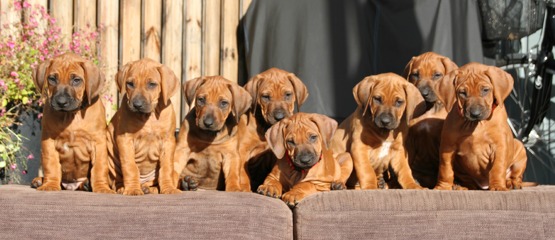 Yesterday I thought it was time for me to bring my camera outside with me again. I haven't taken as many photos lately since the puppies accidently broken the UV-glas on the cameralens about a week ago. I couldn't get the lens off so had to crack the glass...
Anyway, now I can use it again and the sun was out for a while yesterday and so were we!
The puppies goes outside approximately 6 times a day. Sometimes just to pee and poo and sometimes to stay out and play. The eat outside almost everytime aswell.
I am trying to keep indoors as a sleepingarea and only playing inside when it is to cold outside.
Yesterday they were very cooperative lining up for me on dogbeds, so I managed to get a couple of decent groupshots! Not always easy and definetely not on your own! So thank you puppies!
Below are mixed photos of the puppies 6,5 weeks old. Tomorrow or on Saturday I will attempt their 7 week individual photoshoot aswell! So you have something to look forward to!