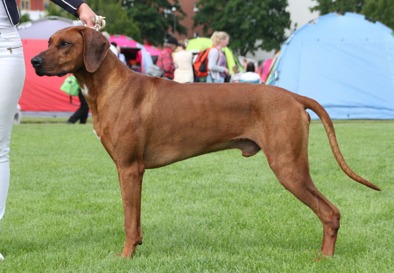 Kadamo Fire it Up
"Arrax"
Born 2013-07-27 in the Fire-litter

Date of birth: 2013-07-27
Sire: NUCH Kangelani's Gentle Leo Son of Clay
Dame: SEVCH Kadamo Ain't She Sweet
Height: 73 cm
Weight: 48 kg
Hips: A/A
Elbows: 0/0
Teeth: Correct bite, missing 1x P2
Health: EOAD- Carrier
Shows: 3rd Best Male, Exc and CQ
Bloodtracking:
Breeder: Karin Fürst, kennel Kadamo
Owner: Amanda Radon Krigsman

Arrax was born in my Fire-litter. They were 10 puppies (3 bitches and 7 males). All showquality ridges, no DS or other faults.