Planned O-litter 2021/2022
Planned O-litter fall/winter 2021/2022
I am very exctied to be planning for this next generation of Kadamodogs by using my homebred girl Tiya. She is expected to come into heat around November 2021 with puppies born around Janurary/February 2022.
Tiya is a dog very special to my heart. Her parents both live in our family, Mira and Colin, and I also got to share almost 14,5 years with her grandmother Moa.
Tiya has a lot of siblings. She was born in a litter of 10 and she also has 14 younger siblings from the same parents. So there are a total of 24 siblings after Colin and Mira.
Tiya has been X-rayed with hips A/C. This means that her right hip has a less deep hipsocket and therefor scored with C. The fit is still very good but it could have been deeper.
Tiya is the fittest and most muscled dog I have ever had, so this hip will not cause her any problems. After a lot of thinking and waiting for her siblings X-ray results I have decided to breed from her despite this C. I normally breed only dogs with A or B, but for Tiya I have to make an exception. Out of the 24 puppies so far 22 are X-rayed and only 4 with hipscore below A or B. This means 82 % of them are clear with the best results.
I have attached her X-rays below for you who might be interested, and questions are welcome.
Tiya is a dog with so many wonderful qualities. She is very loveable, she loves to be as close as possible. She doesn't think she is big enough to be a lapdog, or give out hugs standing on her backlegs.
She is up for anything, wether it is going for a run, some obediencepractise, tracking in the woods, cuddles on the couch or a long hike. She is a big girl, but with excellent construction and proportions. True beaty inside and out.
For me it is of course important to choose a studdog that has perfect hips but not only him, his siblings too, except for all the other qualities and criterias that I have when I choose a studdog.
My goal is always to produce healthy, friendly and wonderful familydogs. Tiya has so many wonderful qualitites that overweigh her one C hip. I have written more about Tiya below.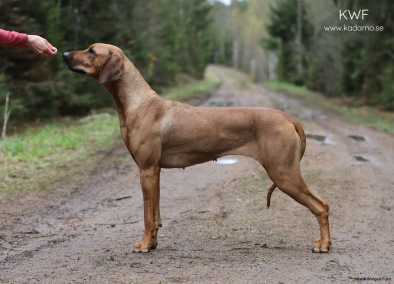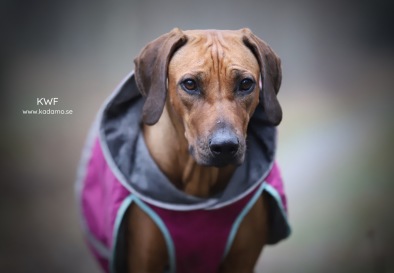 SEVCH Kadamo Comin' Home
"Tiya"
Born: 2018-12-08
Sire: SEUCH NUCH FINCH SEVCH NORDJW-17 FINJW-17 NOJW-17 HEW-17 HEJW-17 Amatonga's Golden Boy to Kadamo "Colin"
Dame: CIB SEUCH NUCH FICH DKUCH EECH SEVCH RLDN RLDF LP1 Kadamo Bringin' It Back "Mira"
Hips: A/C
Elbows: 0/0
Weight: 43 kg
Height:
Dental status: Fullset correct bite
Health:
EOAD clear through parentage
JME clear through parentage
Bloodtracking: Swedish Bloodtracking Champion
Shows: Exc-1, CQ, R-CAC
Owner: Karin Wolgast Fürst, kennel Kadamo

Tiya is the clown of the family. She takes every day with new energy and a positive attitude. She always comes flying and jumping like a kangaroo through the air to greet me. She loves to stand on her backlegs to give me hugs and kisses.
She loves to be near, sleep next to me on the couch or why not sit in my lap! She is lovely to work with. Excellent both in tracking and obedience. Positive attiture and a good amount of energy makes her easy to train. If Covid had not put a stop to competitions I am sure she would have had her first rallyobediencetitle by now.
She is a friendly girl, get a long with dogs and people. Can be shy with men but as soon as she has checked them out she asks for a backrub and buttscratch.