Planned M-litter winter/spring 2021
I am very excited to announce my planned M-litter for 2021. These puppies will be the fourth line of Kadamo dogs with the planned dame being lovely SEVCH Kadamo Runs with Raksha "Siri". Siri is born in my Jungle book-litter, her mother in SEVCH Kadamo Give Me a High Five "Segra" from my High-litter, and her grandmother is CIB EECH SEUCH NUCH FINCH DKUCH SEVCH RLDN RLDF LP1 Kadamo Bringin It Back "Mira" from my Elvis-litter.
I am so happy to this time be able to use my own breeding as sire to the planned litter, SEUCH DKUCH FINCH EECH SEVCH SEJW-12 Kadamo Rob Roy "Dexter" from my Drinks-litter.
The future puppies will have my broodbitch CIB SEUCH NUCH FINCH EECH SEVCH NVCH LP1 RLDN RLDF SEVW-14 DKVW-16 NORDVW-16 Hamnuddens Fischer "Moa" as grandma and great grandma since she is behind both sides of the pedigree. The level of inbreeding is 3,3 % (recommendation is not above 6,25 %) Moa is at the age of 14 years still here with us going strong!

Siri is a smaller sized bitch with a lovely energetic personality. Happy, social and a good workingdog. She is a healthy dog X-rayed clear on both hips and elbows.

Here is a description of Siri (in Swedish) from her owner:
Siri är en väldigt glad hund med mycket energi. Hon älskar människor och speciellt barn. Hon är inte en jättebra vakthund eftersom hon oftast bara är glad när det kommer någon. Känner hon personen är fråga skrynklar hon hela ansiktet av glädje. Men har visat att även hon kan vakta vid ett fåtal tillfällen. Har inga problem med att träffa eller möta andra hundar. Hon är kul att träna med för hon är alltid med på noterna och vill jobba. Kan dock bli lite uppskruvad så man får hålla en bra energinivå för att det inte ska slå runt och bli flams. Men är väldigt flexibel spelar ingen roll om man ska jogga, spåra, köra Nosework eller sova under täcket i sängen så är Siri på. Hon hatar verkligen att bli blöt, och blir väldigt uppfinningsrik för att undvika en promenad i regnet. Hon står till och med och steppar med frambenen när hon dricker vatten och det skvätter! Även om hon allra helst är där matte är så är det inga problem att lämna henne själv. Hon har hittills inte visat några rädslor, sovit sig igenom nyårsraketer och stått som en fura på skott vid spårslut.

Dexter is gentle, calm and sweet trough out, not a bad bone in his body! He will balance Siri's energy with his calm personality. He also likes to work and they are both good trackingdogs. Dexter is a healthy boy and of course also he is X-rayed clear on hips on elbows.

Dexters owners words about him (in Swedish):
Dexter är en väldigt trygg och självsäker hane. Han bor ihop med sig systerson Argos och han lär honom allt han kan. Dexter gillar att träna/tävla förutsatt att belöningen är den rätta för uppgiften. Han vaktar inte men håller koll på om det kommer någon, agerar inte mer än vad som behövs. Endast i fåtal situationer så skäller han och är otroligt duktig på att kommunicera både med människor och hundar. Dexter är fortfarande stundtals busig med sin systerson och älskar att springa fritt. Han ser ingen anledning till att gå ut tidigt på morgonen då det är så mycket skönare att ligga i sin biabed med täcke och bara mysa. Han bryr sig inte om varken fyrverkerier eller skott.
SEUCH EECH FINUCH DKUCH NORDUCH SEVCH SEJW-12
Kadamo Rob Roy
"DEXTER"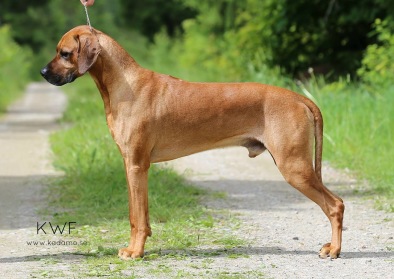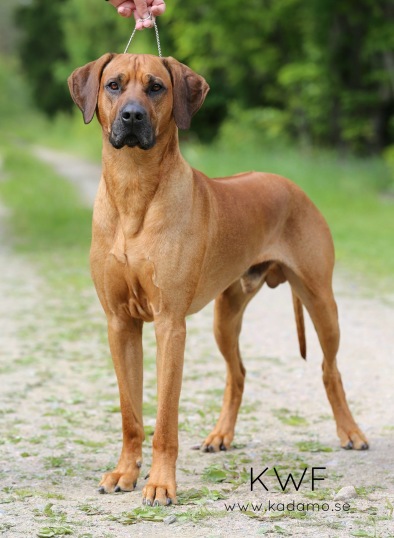 D.O.B: 2012-02-26
Sire: AM GRAND CH CA GRAND CH HPK Tropaco Troyan Argos of COSO "Argos"
Dame: NORDUCH EECH SEVCH RLDN RLDF Hamnuddens Fischer CV "Moa"
Height: 69 cm
Weight: 44 kg
Hips: B/B
Elbows: 0/0
Health: EOAD Clear
Bloodtracking: Swedish Bloodtracking Champion
Shows:
Swedish Show Champion
Estonian Show Champion
Finnish Show Champion
Danish Show Champion
Nordic Show Champion
Swedish Junior Winner 2012
Qualified for CRUFT's 2013
1x CACIB
4x R-CACIB
1x BISS puppy at SRRS Speciality Show 2012
Owner: T.Lindgren, J.Pettersson
Homepage: www.theridgeback-king.com


SEVCH Kadamo Runs with Rasha
"SIRI"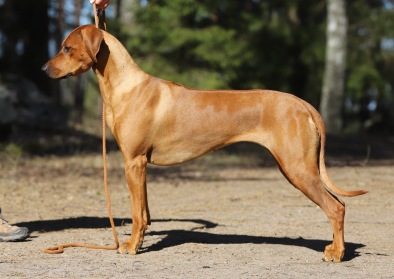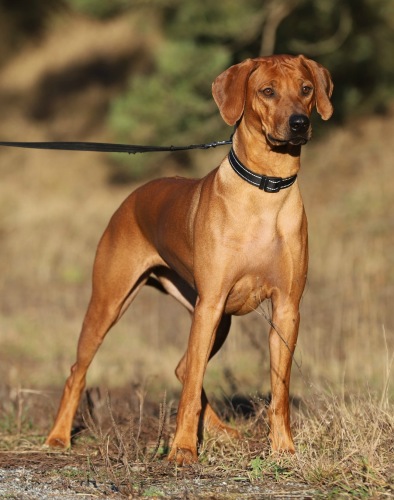 D.O.B: 2018-03-06
Sire: NUCH Ulwazi's Adjua Khan by Edelrood "Khan"
Dame: SEVCH Kadamo Give Me a Hogh Five "Segra"
Height: 62 cm
Weight: 33 kg
Hips: A/A
Elbows: 0/0
Health:
DM clear
JME clear
Bloodtracking: Swedish Bloodtracking Champion
Shows:
Excellent from juniorclass
(No shows during 2020 because of COVID)
BIS online all breed show 2020
Owner: A. Nessemo