I am very happy to announce the puppyplans for spring/summer 2021. Segra will have her second litter here at Kadamo, and this time she will be inseminated with very handsome German male Akono Nayoma Lajaani Spencer "Spencer".
Segra is a sweet, happy and energetic girl. She is athletic and active and with her family she goes for runs, crosscountry skiing, trains obedience and bloodtracking. She is on the smaller scale in size but with a big personality. She is the mother to my Jungle Book-litter.
This will be dad Spencer's first litter in Sweden. He has not been shown but I am pretty sure we would be a winner if/when shown. He is very good at mantrailing and assists his owner during classes since she is a proffessional dogtrainer.

********************************************************************************************************************************************************
Segra started her heat 12th of March. AI was done on day 15, the 27th of March. Puppies expected to be born at the end of May and ready to move to their new families in the end of July 2021.
********************************************************************************************************************************************************
Spencer's owners words about him:
Who is "Spencer"? At an early age in the litterbox, when he was a puppy, Spencer caught my attention - because he was a very easy going and relaxed puppy - his behaviour reminded me a lot of his great-grandfather "Machano", my first Rhodesian Ridgeback and founding sire of my Kennel. Now, as a grown up dog, his character is solid as a rock. He is a laid back boy with a always friendly attitude, never searching for trouble and he always wants to please. Other animals, strangers, Kids...nothing seems to be an issue for him. He works as my "assistant" or "co-worker" in my dog trainings and is a great help when it comes to work with dogs which show problems with their behaviour or lack in communication skills. He is there, always calm, strong with a charisma every dog understands. What he loves most, is retrieving in all possible ways- sometimes I think he is a Labrador. Also Mantrailing is something he likes and he always does a good job.

Segra's owners words about her:
En mycket positiv och glad hund. Otroligt familjär, kräver mycket närhet. Hon är alltid träningsvillig och lättlärd, tycker allt är roligt sålänge även vi visar glädje. Och sålänge det finns något ätbart. Hon fungerar jättebra med barn, har bott och umgåtts med barn i alla åldrar hela sitt liv; snäll och försiktig. Hundmöten fungerar bra, dock ganska dominant i sitt sätt. Hon vaktar en del på hemmaplan och det är JÄTTEMYCKET jakt i Segra. Vår erfarenhet är att hon är modig i alla situationer och backar aldrig. Stor skillnad i henne jämfört med de andra två vi har. Vi fick jobba massor och stenhårt med ensamträningen när hon var valp. Det var påfrestande men med envishet, tålamod och begränsat utrymme som utökades vartefter gick det bra och idag går det fint att lämna henne helt ensam, dock är hon sällan helt solo då hon har två "syskon". Hon är trygg och har lätt för att koppla av i de flesta situationer. Enligt oss en fantastisk hund som vi aldrig skulle vilja leva utan. Hon har inga skrupler i kroppen utan snor dock allt ätbart hon kan komma över. Hon är också lite tjurig när hon sover djupt och någon bufflig "syster" kommer och lägger sig för nära (=läs ovanpå). Har alltid varit frisk och inga tendenser till allergier. Hon dras med sårig örsnibbar under perioder på vintrarna, det är väl det enda.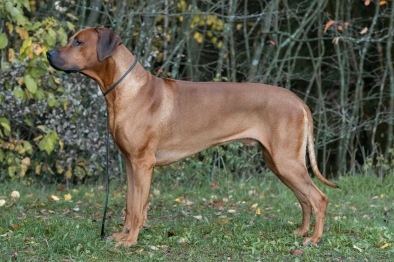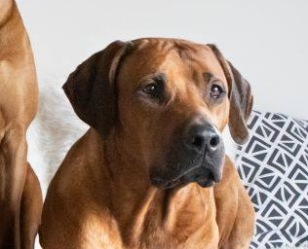 Akono Nayoma Lajaani Spencer
"SPENCER"
D.O.B: 2018-03-22
Sire: MultiCH MultiW Maanhaar Primo-Creatus Fateful Benjamin
Dame: Akono Nayoma Emaani Siribala
Height: 69,5 cm
Weight: 46 kg
Hips: A1
Elbows: Free
OCD: Free
Health: Fullset correct bite
JME: Clear
DM: Clear
Dilute: D/D
Ridgegene: R/R
Shows: r-CAC
BPH: German Breeding test
Owner: Carmen Paul

More photos of Spencer.
Spencer own homepage.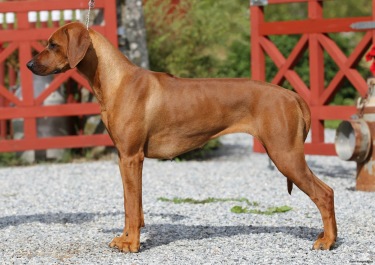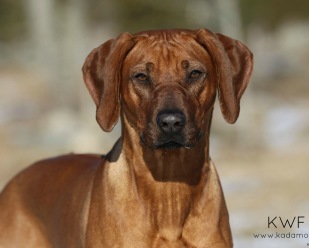 SEVCH Kadamo Give Me a High Five
SEGRA"
D.O.B: 2015-08-28
Sire: NORDUCH SEVCH Mankoyas Incredible Idde by Gambo
Dame: CIB SEUCH NUCH FINCH DKUCH EECH SEVCH RLDN RLDF LP1 Kadamo Bringin' It Back "Mira"
Height: 63 cm
Weight: 33 kg
Hips: A/A
Elbows: 0/0
Health:
EOAD: CLEAR trough parentege
JME: CLEAR trough parentege
DM: CLEAR trough parentege
Bloodtracking: Swedish Bloodtracking Champion
Shows:
Excellent, 1x CAC, 1x r-CAC, 1x r-CACIB
BPH: Yes
Owner: Mats Trollvad & Sara Johansson

More photos of Segra.