Kadamo's next litter is planned for spring 2018. The mother to be is wonderful sweetheart Kadamo Give Me a High Five "Segra", and she is expected to come into heat in February 2018. If she does and everything goes as planned it means we will have puppies in april and they will be ready to move to their new homes in June/July.
After searching around the world the boy I felt was Mr Right for Segra was found in Norway. A lovely boy that I have loved since he was a puppy. He is just like Segra on the smaller side so I do not expect to get very big dogs out of this combination, even though they both have larger dogs in their pedigrees. (Below you can see the future puppies pedigree).
The two of them have several wonderful qualities of their own, but also complement eachother, both in exteriour and personality. They are both energetic dogs so a puppy from this combination can suit you who want an active friend for training or competing.

For more information and inquiries for a puppy email me at karin@kadamo.se.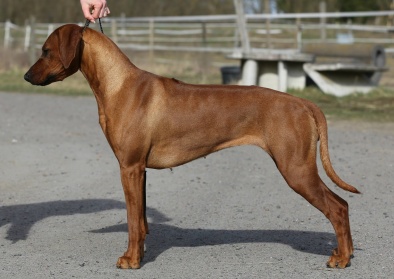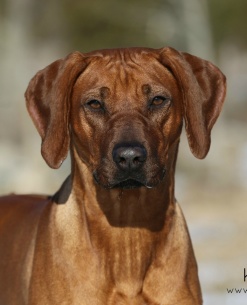 Kadamo Give Me a High Five
"SEGRA"
Born: 2015-08-28
Sex: Female/Bitch
Sire: NORDUCH SEVCH Mankoyas Incredible Idde by Gambo
Dame: CIB SEUCH NUCH FINCH DKUCH EECH SEVCH RLDN RLDF LP1 Kadamo Bringin' It Back "Mira"
Hips: A/A (clear)
Elbows: 0/0 (clear)
Weight: 32 kg
Height: 63 cm
Dental status: Correct bite
Health:
EOAD: CLEAR trough parentege
JME: CLEAR trough parentege
DM: CLEAR trough parentege
Bloodtracking: 2x 1st prized openclass
Shows:
1x R-CACIB
1x CAC
1x R-CAC
Mentality: BHP, gunshotproof
Owner: Mats Trollvad & Sara Johansson
More photos of Segra HERE.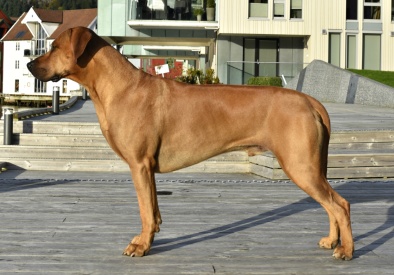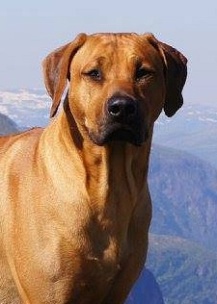 NUCH Ulwazi's Adjua Khan by Edelrood
"KHAN"
Born: 2011-01-31
Sex: Male
Sire: INTCH NORDUCH FINCH DEVDHCH CZCH SEVCH KLBCH KLBV-09 DKKV-09 Inanda Mellberg Edelrood
Dame: NUCH SEUCH Kangelani's Gentle Loba By Clay
Hips: A/A (clear)
Elbows: 0/0 (clear)
Weight: 42 kg
Height: 65 cm
Dental status: Correct bite, full dentition
Health:
EOAD: Carrier
DM: N/N CLEAR
Ridgegene: R/r
JME: CLEAR
Shows:
Norwegian Champion
Mentality: MH, gunshotproof
Owner: Anja Rubatscher & Sonja Helene Olsen
More photos of Khan HERE.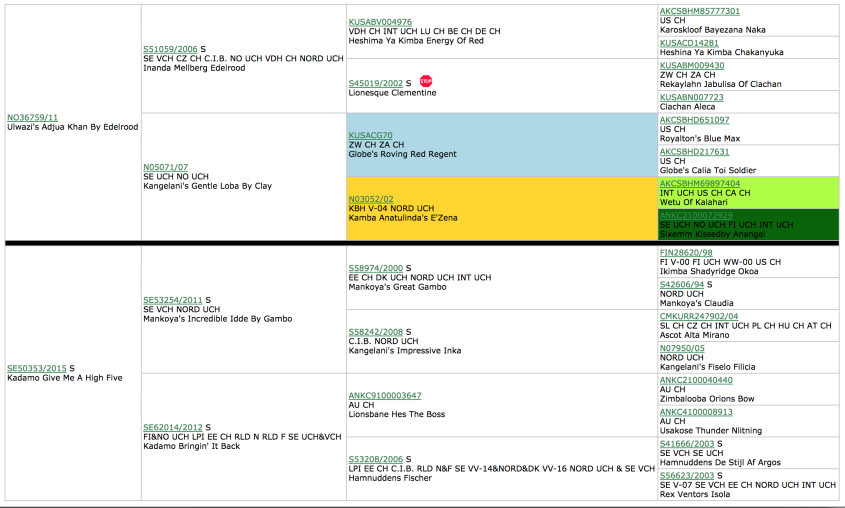 Are you interested in buying a puppy from Kadamo?
I am looking for puppybyers who are interested in having an active life with their dog, wether it is with tracking, agility, obedience, showing or other kind of activities.
It is also very important to me with puppybyers who will stay in close touch with me when the puppy grows up so that I can follow their development and evalute my breeding.
I will arrange puppymeetings where we will try different types of activities and I will have a puppyclass for the litter which I would like all byers to attend if possible.

I follow the directions and guidelines written by the Swedish Kennelclub (SKK) and the Swedish Rhodesian Ridgeback Club (SRRS) when choosing suitable dogs for breeding concerning health and breedtype. (This means that a dog being used for breeding needs to be X-rayed with score A or B on hips and 0/0 on elbows and been shown with at least a Very good in quality.)

If you are interested in a puppy from my kennel feel free to contact me for more information!
Karin : 070-998 09 91 or karin@kadamo.se

This is what you get when you buy a puppy from Kadamo:
- Registrationpapers and pedigree from SKK
- Health certificate not older than 7 days
- A puppy that has been dewormed, vaccinated and has a ID-chip
- Membership in SRRS the first year (RR-nytt)
- Food for the first week at your home
- A collar and blanket that smells of mummy and siblings
- Possibility to attend obedience/puppyclass and other activities
- Information and tips on how to take the best care of your new familymember
- Ridgebackskolan
- The DVD "Välkommen valp" from SKK
- Regular puppymeetings
- Lifelong support from me